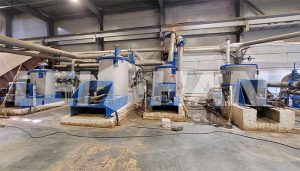 A pulping line with a daily output of 30 tons of paper is indispensable for pulping, screening, slag removal, refining and other procedures. The pulp polished by Leizhan pulper can meet the needs of subsequent paper making. It is worth mentioning that our screening equipment uses fish scale welding technology, making the equipment harder and stronger. Fish scale welding technology can be said to be world-class technology.
Advantags Of Leizhan Pulp Machine
Certified by ISO9001 quality authority.
Complete after-sales service and reasonable price.
More than 40 years of experience in manufacturing pulping equipment.
Provide perfect pulping solutions to customers.
Are you want to make kraft paper? If you need to start up a pulping line, it will be to your advantage to choose our pulping equipment. Welcome to contact us.
Email: pulppaperpump@gmail.com