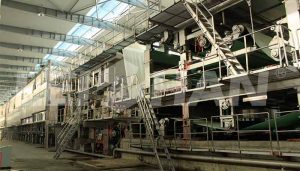 This model of paper machine is capable of producing corrugated paper and containerboard paper, using waste paper as raw material. The following is the specific information and configuration of this paper machine.
More Information Of 4300 Layer Wire Multi-Cylinder Paper Machine
Net paper width: 4300mm
Design speed: 400m/min
Working speed: 300-370m/min
Product varieties: cardboard paper, high corrugated paper
Transmission mode: AC variable frequency partial transmission.
This paper machine can make paper efficiently and create profits for the paper mill. If you are interested in this paper machine, please contact us.
Email: pulppaperpump@gmail.com