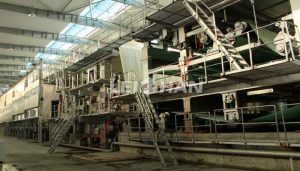 Coated white board paper making line includes two parts: paper pulp making line and paper making line. So, a complete paper industry must contain paper pulp machines and paper machine. Paper pulp machine used to make waste paper become fine pulp for paper forming on the paper machine. The details of coated white board paper making line as below.
The Process Of Coated White Board Paper Making Line
1. paper pulp making line
Firstly, Pulping(D-type hydrapulper or Drum pulper), secondly, Screening(pressure screen, vibrating screen, etc), and finally, the fine pulp will be screened again by more than one inflow pressure screen into the kinds of headbox of the paper machine.
2. paper making line
Formatting of paper sheet(The paper will be formed from stock pulp on a cylinder machine. The paper will be removed the water as far as possible and carried onto the wire for sheet formation), Pressing, Drying, Sizing, Calendering, Reeling and Winding.
Coated board machine is an important machine for producing board. In addition, we not only provide paper machines, but also various pulping machines.
If you are interested in coated whiteboard paper-making line, welcome to contact us for more details!
Email address: pulppaperpump@gmail.com