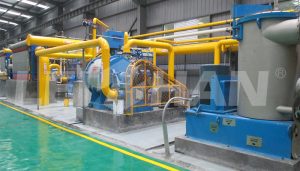 Corrugated paper pulp is generally made from raw materials such as waste paper. Use a chain conveyor to transport the waste paper to the pulping system, and then soak, crush and screen the waste paper. Then a high density cleaner is used to remove impurities, and a double disc refiner is used to refine the pulp to meet papermaking needs.
More Information Of Corrugated Paper Pulping Solution
In the pulping process, it is usually necessary to screen and filter the pulp to meet the requirements of papermaking. The pulping equipment involved can make pulp efficiently and improve the fiber purity of the pulp.
Leizhan provides pulping solutions and pulping equipment. If you have any questions, please contact us for more details.
Email: pulppaperpump@gmail.com