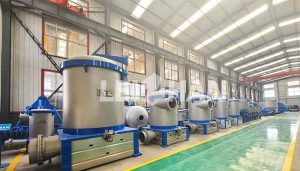 Inflow pressure screen is an advanced pulp screening equipment, which is suitable for fine screening equipment of wood pulp, various straw pulp and waste paper pulp, which especially suitable for screening of approach flow system.
The Feature And Structure Of Inflow Pressure Screen
1. sturdy and durable, convenient diassembly and assembly, simple operation, less malfunction for continuous working, low maintenance cost.
2. It has the characteristics of high screening quality, large capacity and low pulp flow pulse.
3. It adopts precise fish scale welding process and automatic oiling device imported from South Korea.
The outlet of the internal flow pressure screen is directly connected to the headbox of the paper machine part, which is an advanced fine screening equipment. If you are interested, please contact us for more details.
Email: pulppaperpump@gmail.com