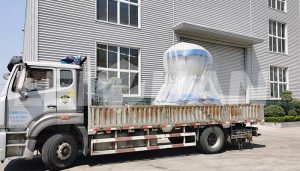 According to the pulping needs of Baotuo customers, we provided an inflow pressure screen equipment to Baotuo Paper. It is mainly used in the flow approaching system of the pulping process to transport the pulp to the wire part of the paper machine and achieve better homogenization.
More Information Of Inflow Pressure Screen Delivery
Deliveried time: September 3, 2023
Ordered equipment: Inflow pressure screen
Deliveried equipment: Inflow pressure screen and supporting accessories.
Are you interested in our inflow pressure screens? We provide high-quality, large-capacity pulping equipment. Welcome to contact us for more details.
Email: pulppaperpump@gmail.com