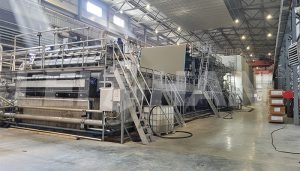 Kraft paper machine is a machine specially used to make kraft paper. It uses advanced technology to process kraft leather through multiple processes, ultimately making it into a smooth kraft paper suitable for writing and printing.
More Information Of Kraft Paper Machine
Kraft paper machines usually have automated control systems that can adjust the thickness and size of the paper to meet different needs. It can also achieve efficient production and improve work efficiency.
Leizhan can provide kraft paper machines with different output specifications. If you have any needs, please contact us for more details.
Email: pulppaperpump@gmail.com