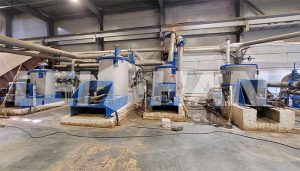 Papermaking is a huge project, from pulping to papermaking, which needs to be completed with good papermaking equipment. According to customer needs, we provide corresponding pulping equipment and paper machines to help paper mills complete paper production projects.
The More Information Of Paper Making Line Machine
Raw material: waste paper,wood pulp, etc.
Common pulp machine: Chain conveyor, D-type hydrapulper, High density cleaner, M.C. pressure screen, Double disc refiner, Reject separator, Pulp pump, etc.
Paper machine: Paper machines generally include the following parts: wire section, press section, drying section, sizing section, calendering section, and reeling section.
Leizhan can customize suitable papermaking solutions according to your papermaking needs, and also provide papermaking equipment. Welcome to contact us for more details.
Email: pulppaperpump@gmail.com