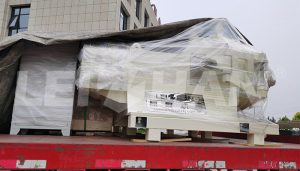 According to the paper making needs of Zhejiang customers, Leizhan provided them with a set of high-quality double-disc refiners. It adopts single-in and double-out beating method, which has better beating effect. It is simple to operate, easy to maintain and occupies a small area.
More Delivery Information Of Double Disc Refiner
Deliveried time: September 11, 2023
Ordered equipment: Double Disc Refiner
Deliveried equipment: Double Disc Refiner and supporting accessories.
After more than 40 years of manufacturing experience, the quality of Leizhan's pulping equipment has gradually improved. We can provide a complete set of pulping equipment. Welcome to consult us.
Email: pulppaperpump@gmail.com