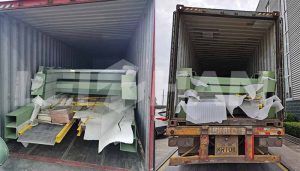 In July 2023, Anyang customer ordered a chain conveyor from us. Chain conveyors are mainly used to transport various bulk or bundled raw materials in the papermaking industry. They have strong conveying capacity, low power consumption and low cost. It has been used by many paper mills, and the effect is very good. It is currently the most ideal waste paper and pulp board conveying equipment.
The Deliveried Information Of Chain Conveyor To Anyang
Deliveried time:July 10, 2023
Ordered Equipment: Chain Conveyor
Deliveried Equipment: Chain conveyor and supporting facilities.
Leizhan's pulping equipment has been certified by the ISO9001 authoritative quality organization, and has won the trust of many paper mills. If you have any needs, please contact us.
Email: pulppaperpump@gmail.com