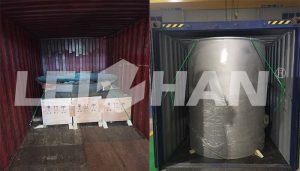 In view of the Russian customer's pulping needs, he ordered two pulping machines from us: a hydrapurger and a trash well. These two paper making equipment are used in the pulper continuous crushing system of the waste paper recycling production line. They interact with each other to remove pulp impurities.
More Delivery Information Of Hydrapurger And Trash Well
Deliveried time: September 20, 2023
Ordered equipment:Hydrapurger And Trash Well
Deliveried equipment: hydrapurger and trash well and supporting accessories.
Leizhan has a broad demand market in Russia and has provided papermaking equipment to Russian paper mills many times. Please contact us if necessary.
Email: pulppaperpump@gmail.com