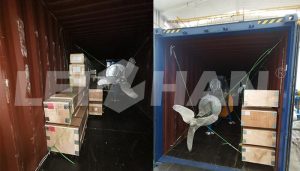 The agitator is a specialized machine that stirs the pulp so that the pulp can be evenly distributed in the pulp tank. According to the needs of Russian customers, Leizhan provided a mixer to help complete the pulping task. More information as below.
More Delivery Information Of Pulp Machine
Deliveried time: September 27, 2023
Ordered equipment: Agitator
Deliveried equipment: Agitator and supporting accessories.
Our pulping equipment can serve pulping production lines and can produce high-quality pulp for papermaking. Welcome to contact us for details!
Email: pulppaperpump@gmail.com