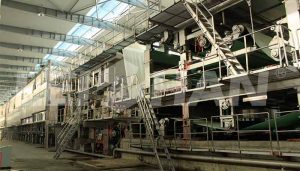 This paper machine is a two layer wire paper machine, mainly used to produce corrugated paper, linerboard, kraft paper etc. All products are roll paper. The paper machine is mainly divided into the following parts: headbox, fourdrinier wire part, press part, front drying part, diagonal surface sizing machine, rear drying part, calendering part, and reeling part.
More Information Of Two Layer Wire Kraft Paper Machine
Two layers of wire, namely top wire and bottom wire, main components: breast roll, forming board, dewatering board, vacuum box, composite roll, vacuum couch roll, wire drive roll, wire leading roll and frame, etc. The top wire and the bottom layer wire are each equipped with a forming wire.
The two layer wire paper machine has the advantages of high efficiency and energy saving. It is easy to operate, and more importantly, the quality of the finished paper is good. If you need it, please contact us.
Email: pulppaperpump@gmail.com