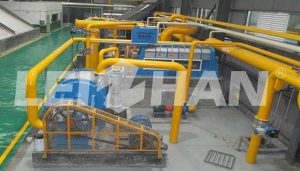 Leizhan designed a new pulping project to make 30 TD packaging paper. This item of pulping equipment involves pulping functions such as screening, refining, and slag removal. In order to better manufacture packaging paper, Lei Zhan connected the involved pulping equipment in series to form a pulping system.
The Details Of Packaging Paper Pulping Line
The packaging paper 30TD pulping line designed by Lei Zhan includes the following equipment:D type hydrapulper, High density cleaner, Mid consistency pressure screen, Reject separator, Mid density cleaner, Low density cleaner, Double disc refiner, Inflow pressure screen, Agitator, Pulp pump, Control cabinet.
Lei Zhan's pulping equipment has high quality and good pulping effect, and has been unanimously recognized by customers. Do you need pulping, welcome to contact us for more details.
Email: pulppaperpump@gmail.com