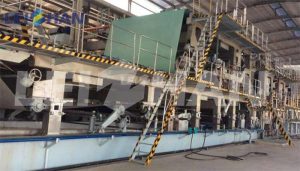 According to the customer's paper making needs, Leizhan provides a large-capacity 3700mm kraft paper machine to produce kraft paper. Using a four layer wire design, the quality of the finished paper will be higher. This paper machine has a precise structure and can meet the daily production needs of paper mills.
The More Information Of 3700mm Kraft Paper Machine
Raw material: accepted pulp.
Paper Width: 3700mm
Composition: Headbox, Fourdrinier wire part, press part, front drying part, sizing part, rear drying part, calendering part, and reeling part.
The 3700mm kraft paper machine has high paper making efficiency and good paper quality. We also provide various paper machines. Welcome to contact us.
Email: pulppaperpump@gmail.com