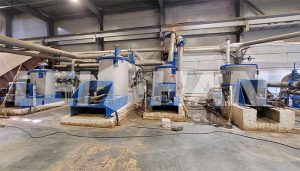 The pulping system is divided into screening system, slag removal system, pulping system and refining system. Leizhan's pulping equipment includes the entire pulping system. The raw materials for pulping are also diverse, which can be waste paper, wood pulp, etc.
More Information Of Pulp Making Line In Paper Mill
Taking waste paper raw materials as an example, if you want to make pulp, you need to use important pulping equipment such as chain conveyors, D-type continuous crushing system equipment, medium-consistency pressure screens, reject separators, and light impurity separators.
Lei Zhan will develop a reasonable pulping plan for you based on your raw materials and output requirements. Welcome to contact us for more details and price.
Email: pulppaperpump@gmail.com