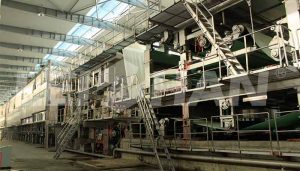 The double layer wire paper machine mainly consists of the following parts: headbox, wire section, press section, drying section, sizing section, calendering section, and reeling section. More information as below.
More Details Of Double Layer Wire Kraft Paper Machine
There are two layers of wire in the wire part: top layer wire and bottom layer wire.
The wire part is equipped with guiding wire roll, vacuum roll, dewatering board and other accessories.
The pressurization method of the calendering part is corrugated pneumatic tire pressurization.
This kraft paper machine has the characteristics of high efficiency and low energy. If you want to make corrugated and other base paper, please contact us for more details.
Email: pulppaperpump@gmail.com