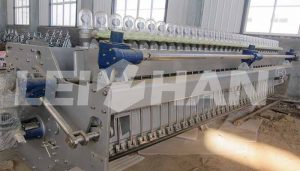 The headbox is a paper machine used in front of the paper machine. The slurry enters the wire part of the paper machine through the headbox to form. It is the link connecting the pulping equipment and the paper machine, and plays a role of conveying.
More Information Of Headbox In Paper Making Line
Feature:
High efficiency and low energy, convenient and simple operation, easy to maintain.
Function:
1. Conveying the slurry to the wire part.
2. Suspend the pulp fibers.
3. The headbox spreads the slurry evenly according to the width of the paper machine.
Leizhan supplies a series of pulping equipment and paper machine equipment for paper making and other related equipment. Are you interested in the headbox? welcome to contact us for details!
Email: pulppaperpump@gmail.com