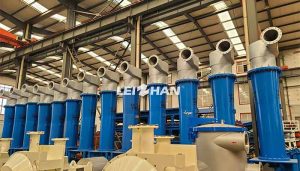 The high density cleaner is a pulping line equipment that removes impurities and can efficiently remove light and heavy impurities in the pulp. Used in waste paper production lines and wood pulp production lines. Compact appearance, hard and wear-resistant.
More Information Of High Density Cleaner
The inner tank is made of ceramic cone and the outer part is stainless steel structure.
Equipped with PLC control cabinet, convenient and easy to control, sufficiently discharging impurities.
If you want to know its quotation and more details, please contact us!
Email: pulppaperpump@gmail.com