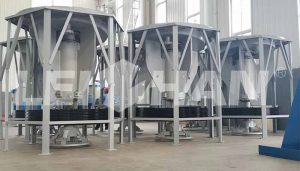 In this cooperation, Zhengzhou Leizhan Machinery will provide Saudi Arabia with a complete set of advanced equipment with an annual output of 100,000 tons of packaging paper, including chain conveyors, D-type hydrapulper systems, high density cleaner, and coarse screening , fine screening, etc., which provide strong support for the smooth commissioning of Saudi Arabia. Through the introduction of advanced equipment and technology, Saudi Arabia will further improve production efficiency, reduce production costs, optimize product quality.
The Advantages Of Leizhan
As an enterprise with more than 40 years of experience in the paper making industry, Zhengzhou Leizhan Machinery has been committed to providing customers with high-quality paper making equipment and technical solutions. The company has a skilled and experienced R&D team. In the domestic and foreign markets, the equipment of Leizhan has been widely used in major paper-making enterprises and various types of paper production lines, and has been well received by customers.
The cooperation between Zhengzhou Leizhan and Saudi Arabia is not only a win-win move for both parties, but also a vivid manifestation of China-Saudi Arabia economic and trade cooperation.
Our Email: pulppaperpump@gmail.com