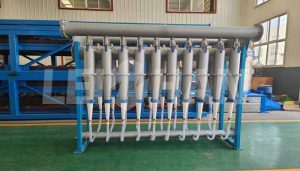 Low density cleaner is mainly used to remove iron filings, dust, gravel and other major impurities in various slurries during pulping. The low density cleaner has the characteristics of high efficiency, energy saving and easy maintenance.
The Specific Information Of Low Density Cleaner
1. The low density cleaner adopts a split design and can be divided into 3-4 sections for easy disassembly and replacement.
2. There are open slag discharge and closed slag discharge, suitable for different working environments.
3. The lower part of the cone is made of wear-resistant ceramics, which not only ensures a stable slag discharge rate but also prolongs the service life.
Do you want to know more information about low density cleaner, welcome to consult us for more details! Leizhan will do its best to serve you.
Email address: pulppaperpump@gmail.com