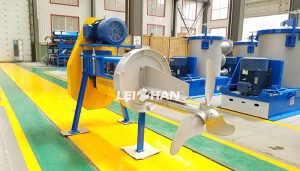 The main function of the paper pulping agitator is to mix the raw materials and water into a homogeneous mixture. This ensures that raw materials such as fibers are fully dispersed and evenly distributed in the water, resulting in high-quality pulp. Advanced blade design,strong thrust. It can be adjusted the angle according to the concentration of th pulp.
The Feature Of Pulp Agitator
Powerful stirring ability can evenly mix raw materials and ensure even fiber dispersion.
Good wear resistance to ensure long-term stable operation.
Efficient energy utilization, optimized design, and improved production efficiency.
Stable operation, reducing downtime and maintenance costs.
The papermaking pulp mixer is an important piece of equipment that plays a key role in the papermaking industry to ensure pulp quality and production efficiency. Welcome to contact us.
Email: pulppaperpump@gmail.com