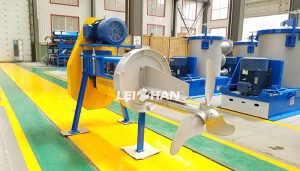 In the pulping production line, there are pulping equipment with different functions. Agitator equipment is mainly used for circulating stirring in the pulp tank to keep the pulp in a suspended state and ensure that the components of the paper are evenly distributed in the pulp.
More Specification Of Agitator
The blade design is advanced and the thrust is strong.
The angle can be adjusted according to the different consistency of the pulp.
Low energy consumption, efficient mixing.
This pulping equipment is our best-selling equipment. If you are interested in the Agitator, please contact us.
Email: pulppaperpump@gmail.com