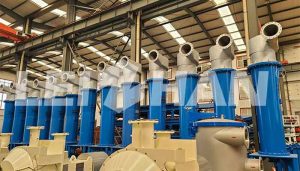 Depending on the type of paper making, the pulp used is different, and the raw materials used to make the pulp are also different. Waste paper is often used to utilize the pulp used to make corrugated paper. During the pulping process, light and heavy impurities need to be removed. The high density cleaner can efficiently separate impurities and pulp.
The Information Of High Density Cleaner
Raw Material: waste paper
Mainly used to remove all kinds of heavy impurities in paper pulp, like staple, stones, glasses, etc.
The pulp inlet and outlet are made of stainless steel, which is corrosion-resistant.
The inner bladder of the cone is made of ceramic and is wear-resistant.
Equipped with PLC control system to automatically remove slag.
It is mainly used before coarse screening. If you are interested in knowing more details about our pulp machine high density cleaner, welcome feel free to consult us.
Email: pulppaperpump@gmail.com