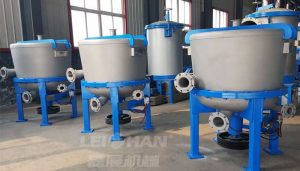 The light impurity separator is used to treat light impurities and tailings in the coarse screening section of the waste paper pulping production line. The upflow pulp feeding method is adopted, and the high-speed rotation of the rotor is used to generate a strong vortex in the shell, and light impurities are gathered in the center of the vortex and discharged from the center port on the top of the shell.
The Feature Of Light Impurity Separator
1. Shell inverted conical design, concave top structure.
2. Automatic water injection device imported from Finland and automatic oil injection device from South Korea.
3. Cylinder stainless steel material, which can prolong service life.
Leizhan not only provides pulping equipment, but also paper machine equipment, if you have any equipment needs on the paper making line, welcome to contact us for details.
Email: pulppaperpump@gmail.com